The Shovel/Evo cam kits are designed to allow you to run Evo grind camshafts in 53-65 Panheads and 66-84 Shovelheads

Velva Touch lifters have been on the market for over 25 years and have proven to be the best available. You will have your choice of Shovel oiling (using original external lines) or Evo oiling (oiling the top end up the pushrods) To use the Evo oiling option you must use rocker arms drilled to accept oiling up the pushrods.(Example:Jims,S&S roller rocker arms or OEM Evo and Jims,S&S Evo roller rocker arms) Lifter blocks are made of cast iron for longevity.
This technology is nothing new. We have been doing it for over 20 years. It has been a best kept secret. S&S is who blew the lid on it. Did you know that every complete S&S Panhead and Shovelhead engine sold has an Evo grind cam in it. If you are in need of a cam and lifters the Evo conversion kit makes the most sense. Take advantage of over 30 plus years of advancement in camshaft technology with many more cam choices compared to the same old limited ancient Shovel cams available.
Running an Evo cam in a Shovel is basically a bolt in operation with this kit. You must check clearances for whatever cam you choose and match the gear pitch of the cam gear to the pinion and breather gear being used. It uses your stock pushrod tubes. Pushrods can be installed and removed with ease and without any other disassembly. Evo grind cams for 53-69 models are available from S&S,Leineweber,Woods and Black Widow Cams. Please research this subject if you are not familiar with its numerous advantages. Item will be assembled and shipped after you have chosen your options. Additional pictures available upon request.
You have the choice of Shovel or Evo oiling at no additional charge. If you would like to change the oiling option at a later date you would only need to purchase a 65.00 kit that includes new lower cups,snap rings,pushrod adjusters and nuts.
The Shovel/Evo cam kits are bolt in and are identical in appearance to the Shovel cam blocks. Nobody will be able to look at them and tell you are running an Evo cam. You can use your stock Shovel arms with an Evo cam but will loose approximately 9% of the Evo cam specified lift due to the rocker arm ratio difference between the Shovel and Evo. You can also run OEM Evo rocker arms or Evo roller rocker arms in your Shovel by using special stepped spacers and get the specified lift listed for the Evo cam. Please contact us if you have any questions or need help determining what will work in your application.
Velva Touch hydraulic lifter kits include blocks that feed each tappet a steady supply of oil unlike stock and other manufacturers set ups where one tappet is fed oil and has to fill and pressurize then oil bleeds over to fill and pressurize the next tappet. Our tappets have a lower pushrod seat to help straighten out pushrod angles. The kits also includes quality hardware, gaskets and detailed instructions. Velva Touch lifters are compatible with almost any camshaft available listed for solids or hydraulics and the blocks come clearance for up to .625 lift.

FAQs



Q. What length push rods should I use, standard or stroker?

A. Standard length Velva Touch push rods generally can be used in engines from stock stroke to 4 3/4" stroke; ( Stock cylinder length up to 5.530" )
Stroker push rods should be used in engines with strokes from 4 3/4" and up; ( Cylinder length 5.530" and up )
Velva Touch stroker push rods are .250" longer than the standard length push rods.


Q. What type of push rod tubes do the lifter blocks use and are the pushrods adjustable or do I need to install the rods as the top end goes together?

A. We recommend using the 1979 and up tubes top and bottom, Quad seals on the bottom, orings in the middle and oversize orings on the top. Push rods are
fully adjustable and can be installed and removed with the heads on. Below are OEM part numbers for the recommended seals.
11101X oversize oring on the top
11132 middle oring
11133A lower quad seal


Q.Will they accept aggressive cams such as an S&S 560 or Leineweber L5 or L51?

A. Velva Touch lifters are compatible with any solid or hydraulic camshaft up to .620 lift, additional clearance needed for lifts above .620.
Leineweber lists Velva Touch as being compatible with any Pan/Shovel and Evo camshaft they offer. ( LEINEWEBER )


Q. What are the requirements to update to Evo oiling in a Shovelhead?

A. Must have roller rocker arms drilled for top end oiling, original oil pump must be in excellent
condition and have adequate volume and pressure or a new or upgraded oil pump (recommended).
Upgrading to the Evo oiling will eliminate all external oil lines.


Q. What are the benefits of upgrading to the Evo cam conversion?

A. You get better throttle response, better valve train geometry and far superior cam profile. Which leads to
a faster reeving engine and greater performance.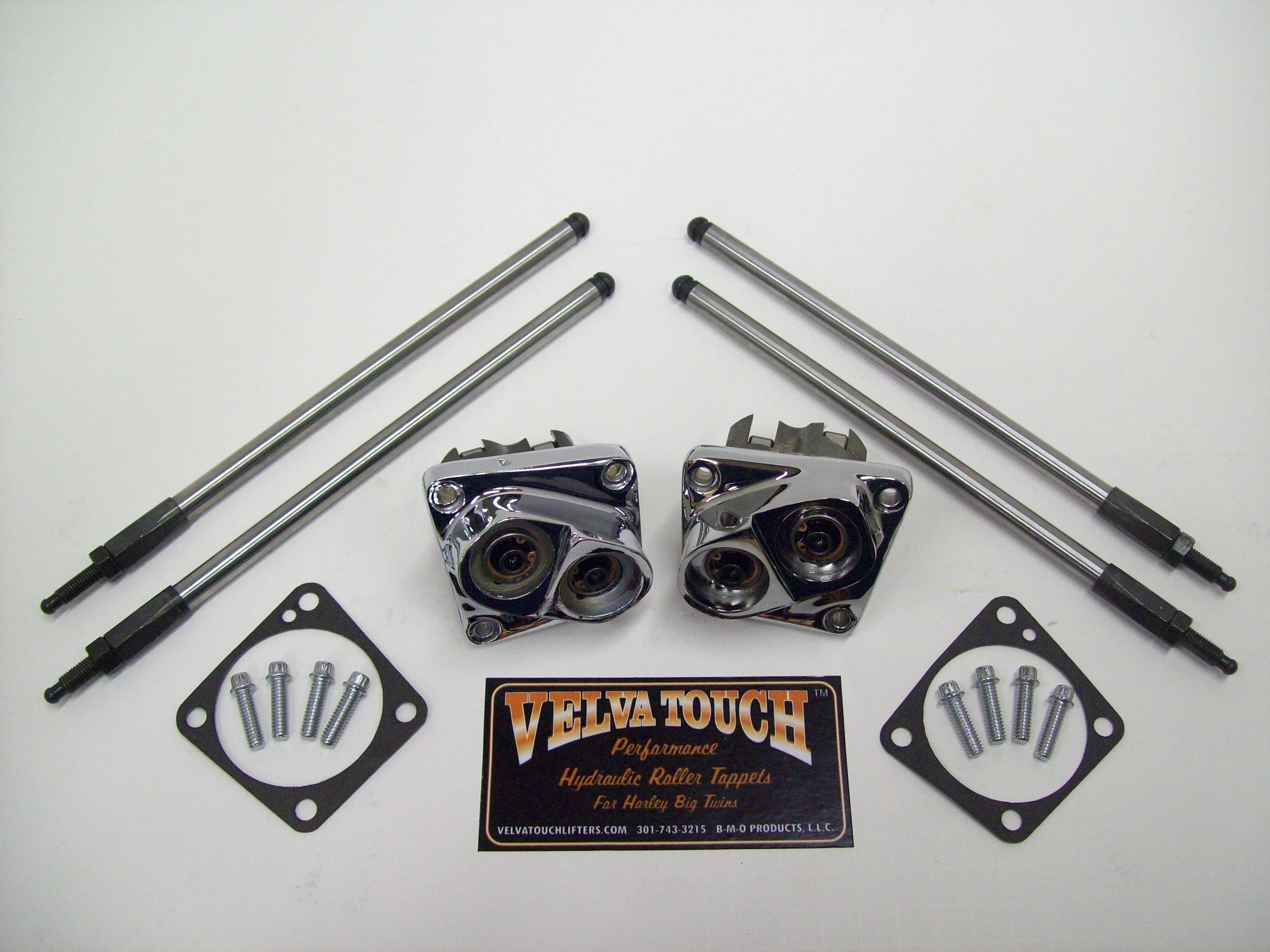 Evo Big Bore Chrome Panhead Chrome




info@velvatouchlifters.com
BMOPRODUCTS@AOL.COM
301-743-3215