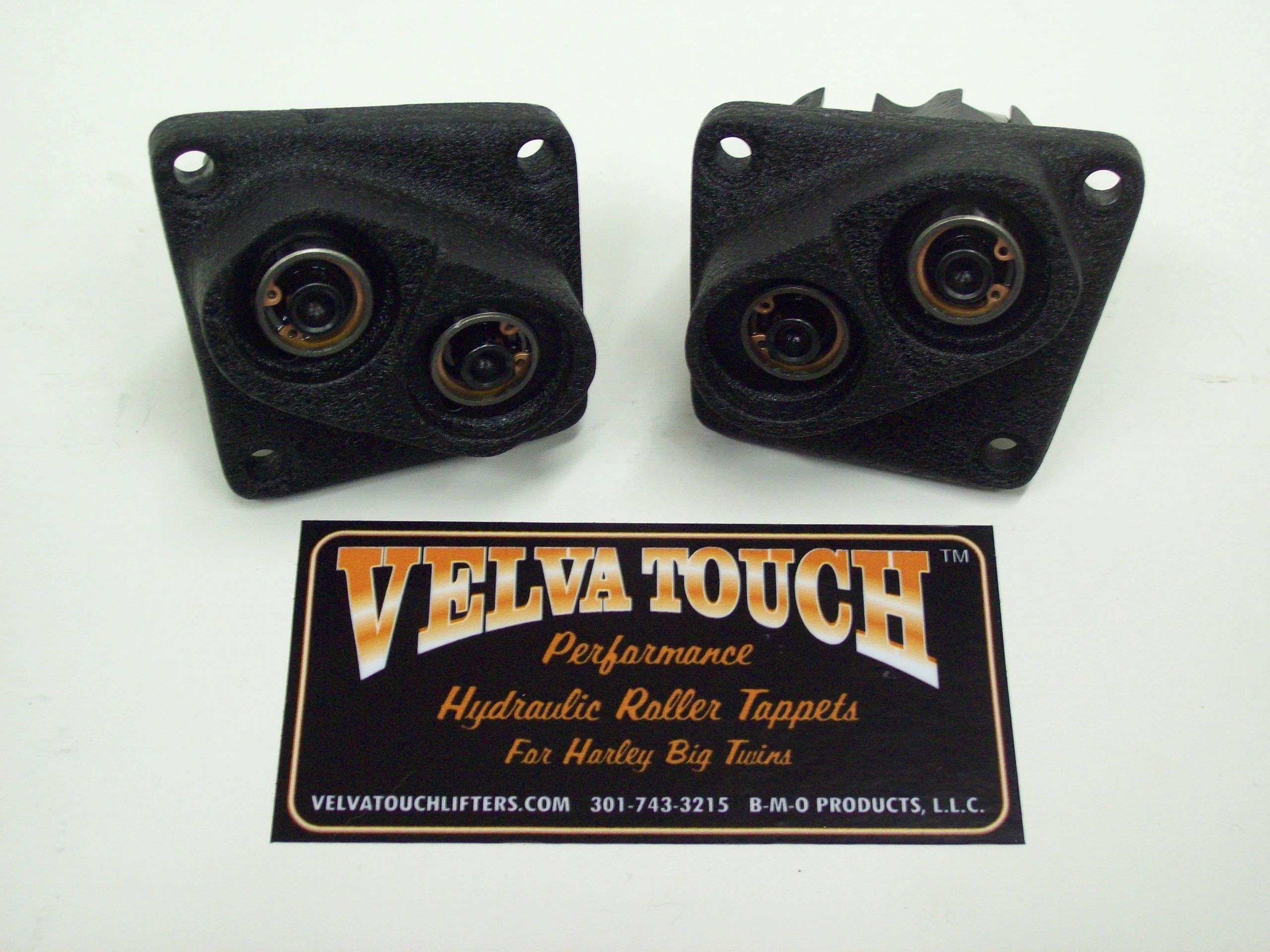 VELVA TOUCH LIFTERS™


In conjunction with the original inventor and patent holder Vern Ott, V-M-O Products and Craftcoat LLC have formed B-M-O Products LLC in a co-operative alliance to produce the proven Velva Touch Lifter line better than ever. These lifters have proven to be the best hydraulic unit for Harley- Davidson™ motorcycles for over 25 years. They are available for Panhead, Shovelhead, Evo, Shovels running an Evo cam, Offset camchest BIG BORE Evo and Twin Cam models. Chrome or Powder Coated blocks with your choice of color.

High performance camshafts need high performance hydraulic lifters to realize its full horsepower potential. Velva Touch lifters get the job done. They do not pump-up or collapse at high RPM. Hydraulic lifters depend on oil pressure to stay functional. OEM lifters alternately collapse or pump up under all conditions.Velva Touch lifters are hand fitted by American craftsmen to each lifter base! Zero valve-lash is where hydraulic lifters are designed to function. Only Velva Touch lifters provide this critical specification at all RPM. OEM hydraulics lose as much as .060" lift even in the best case scenario, meaning a profound loss of performance. Velva Touch lifter kits include lifter blocks, tappet assemblies with the patented Velva Touch lifter, push rods, gaskets, hardware and detailed instructions for installation. The lifter blocks are manufactured from malleable ferrous cast iron, precision drilled, bored, reamed and then honed to size. Lifters are manufactured from oil-hardened tool-steel, then heat treated to a hardness of 58-60 (Rockwell). The outside diameter is ground to fit with .0005-.0010" minimum clearance. The inside diameter is precision ground, honed, and checked to insure concentricity, and bore parallel; for no-bleed lifters and top performance. Each piston is then "hand fitted" to .0002" tolerance. Velva Touch high performance push rods are made of lightweight 4130 Chrome-moly steel and machine tapered for maximum strength.